Total Diamond DA40/42 Solution
Our best package for the coolest, most comfortable flights in your Diamond!
While the Diamond DA40/42 provide spectacular visibility and great views while flying, Pilots and passengers often wrestle with hot cockpits, bright sun, instruments glare, UV radiation, and just being uncomfortable with the sun shining beaming through the large canopy. The results? Flights in your Diamond aircraft are less enjoyable, and more fatiguing, and just not as much fun as they could be. Finally, a pilot/engineer has done something about it.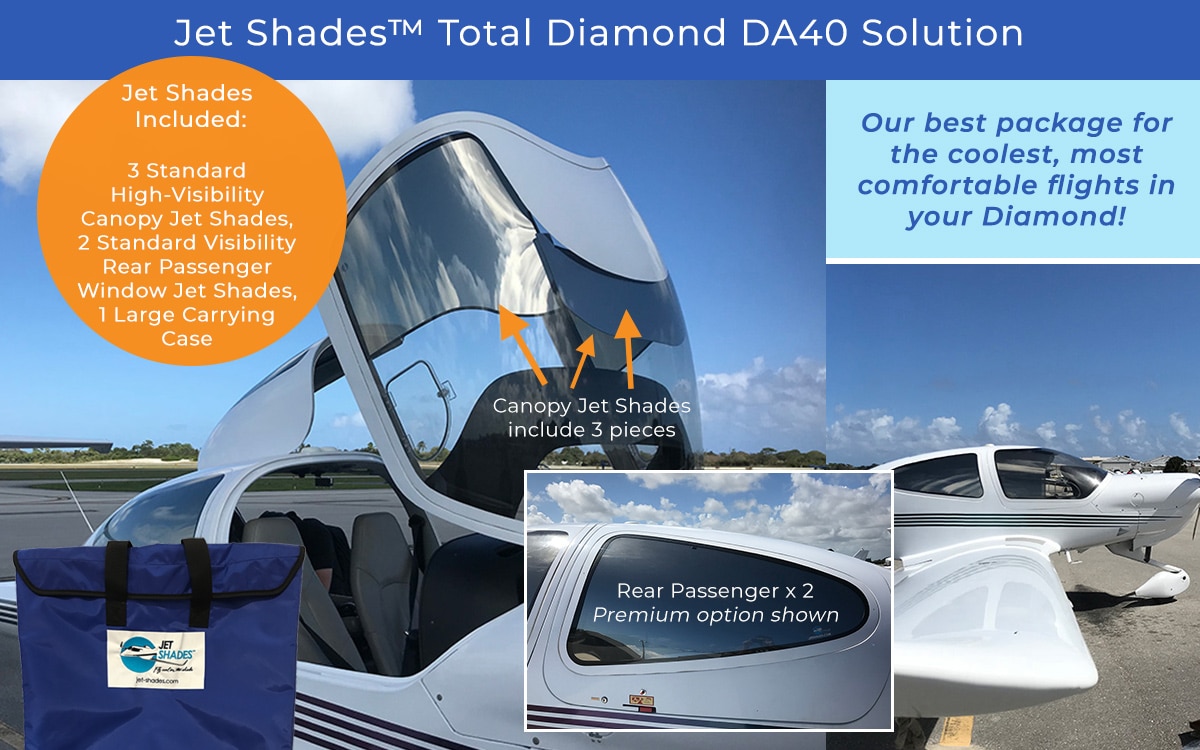 Jet Shades™ are the first complete UV / Heat / Glare-blocking tinted window panels that are designed to be used in the cockpit while flying your Diamond DA40/42 aircraft.
The Total Diamond DA40/42 Solution includes:
(3) standard high-visibility canopy Jet Shades (even available for Tallboy Canopy!)
(2) standard high-visibility rear passenger windows Jet Shades
(1) microfiber storage case (for canopy shades)
All components are made in the USA
---
Easy 1-2-3 Install, Instant Protection
Installation is quick and easy (no STC required) without the use of tools, and easily removable during flight if needed.
Simply push Jet Shades in place into the sides of your canopy and secure to your upper sun shade (the solid plastic dome at the top of the canopy).
Attach the center windshield Jet Shade to the center of the canopy and place on top of the side canopy Jet Shades.
Flying with passengers in your Diamond DA40/42? Simply install Jet Shades into the passenger windows to reduce heat and sun from entering your aircraft – keeping your aircraft cooler and more comfortable for all on board.
If you keep your plane in a hangar, you can leave your Jet Shades installed all the time. No need to remove them and place in foil guards.
---
Looks Great Inside and Out!
Jet Shades for Diamond DA40/42 will cool down your flights, significantly increase the comfort of pilot and passenger, protect all on board from harmful UV radiation, reduce glare and pilot fatigue, prevent overheating on your tablet and phone, make your Diamond aircraft a real head turner on the ramp!
---
Add the Premium Upgrade
Total Diamond DA40/42 Solution can be upgraded to provide the maximum cooling and comfort to your DA40/42. (See Premium Upgrades.) With this package installed you (and your passengers) will want to go flying more because the plane is so nice inside!
The Total Diamond DA40/42 Premium upgrade includes:
an upgraded canopy center windshield
upgraded rear passenger windows
From the inside passengers will see a cool blue window that blocks solar energy and is calming and relaxing. Pilots will enjoy a great reduction of solar energy coming through the upper canopy greatly reducing pilot fatigue. This package also provides the maximum protection of your Diamond DA40/42 aircraft interior. If you have A/C in your aircraft your A/C will work much more efficiently as Jet Shades block heat from entering the aircraft. If you don't have A/C in your aircraft, then the Premium Upgrade is a 'must have' to keep you cooler while you fly!
Start enjoying cool, comfortable flights with one of our Jet Shades Solutions installed in your Diamond aircraft.
---