Are Jet Shades the same window tinting material that is used are car windows?
No, Jet shades are not automotive tinting films, and beware of these.  Automotive films will blister, wrinkle, and separate over a short time as temperature changes and humidity affect them when attached to surfaces other than glass.  Jet Shades have a proprietary, engineered processes for applying and curing unique films on to our panels.
Can I leave Jet Shades in my windows when parked?
Jet Shades now has a new formulation that allows them to stay in the windows while parked on the ramp.  This new formulation will reflect most heat and absorb only a small portion. They can stay in your windows while parked at a ramp.  They will become about 20 - 30 degrees warmer than the interior temperature of your aircraft. In some climates, the interior could get over 140 degrees while parked.  If these conditions exist, remove your Jet Shades from your windows.
I have a Rail that my visor slides on around my side windows and front windshield. Will the Jet Shades work with this configuration?
Yes, the jet Shade should be able to slide behind the rail and up against the window.  We have tested this on Eclipse, Citations, King Air, and other aircraft.  If you have a non-standard rail system that interferes with the Jet Shades, please let us know and we'll help find a solution.
Do I have to change the weight and balance of my aircraft with the Jet Shades installed?
Depending upon the aircraft, a set of Jet Shades can weigh from 3–8 pounds in your cockpit.   Since they are not permanently fixed to the aircraft, it should be considered in the weight and balance calculation before each flight just as any other customer carry on material would be.
How do I clean my Jet Shades?
Jet Shades have a Patent Pending tinting system that is applied to the surface of the Jet Shade that faces outward.  For that reason, Jet Shades have both left and right orientation into the cockpit windows. To insure the integrity of your Jet Shades it is imperative that they be cleaned properly.
Cleaning your Jet Shades should be done with care to avoid damage.  For a light cleaning wipe with a small amount of water and a microfiber towel.  To remove heavier build ups, use a mild solution of baby soap and water at approximately a 50:1 ratio on a microfiber towel.  The use of a clean microfiber is important as other fabrics can scratch Jet Shades.  Dry the Jet Shade by lightly blotting with a dry micro fiber cloth prior to installing them.
What should I do if the Jet Shades get wet?
Immediately wipe them off with a soft cloth towel.  Do not let the Jet Shades stay in moisture for any period of time.  Always keep Jet Shades dry for best performance.
How should I store my Jet Shades when not in use?
Place the Jet Shades in a clean, dry place where they won't be moved often, which can cause scratching.    We offer a micro fiber scratch free carrying case on our website for the storage of the Jet Shades.  We recommend using the case for storage to prevent damage. If your plane is stored in a dry environment with low humidity You can leave your Jet Shades in their case with no other action.  If your plane is in an environment with high humidity, it is best to remove the case from the plane and store the Jet Shades in their case and store the case in a low humidity environment.
Can I roll up my Jet Shades?
No.  While the Jet Shade is flexible and will bend without breaking, the films attached can be damaged if bent to0 severely.  Jet Shades can be flexed to 45 degrees safely.  Avoid rapid and repeated flexing.
Will prolonged exposure to heat damage my Jet Shade?
Jet Shades  were designed to perform at temperatures of 150 degrees F for prolonged periods of time.
Will Condensation form on the Jet Shades?
In some conditions (usually at flight levels for longer periods of time) you may see condensation or frost develop on the Jet Shade.  This is perfectly normal and will not damage the Jet Shade.  If condensation or frost does appear on the Shade, we recommend you remove the panel from the window or windshield and set it aside.  The condensation or frost should quickly dissipate.
DO NOT attempt to remove your Jet Shades in flight unless the autopilot is verified as on and functioning or a qualified crewmember has control of the aircraft. 
What if it gets dark or goes from day to night while flying? Can I remove my Jet Shade in flight?
Yes, Jet Shades are easily removed while flying with the Autopilot engaged.  The instruction manual included provides directions for easy removal.  DO NOT attempt to remove your Jet Shades in flight unless the autopilot is verified as on and functioning or a qualified crewmember has control of the aircraft.
How long will my Jet Shades last?
Jet Shades was designed to provide years of service when used and maintained in accordance with our instructions.  Failure to use and maintain Jet Shades per the manufacturer's instructions will reduce the product's service life.
Can the Jet Shade crack or shatter?
Jet Shades are made from Optical Quality Polycarbonate which provides high clarity and is also highly resistant to breakage.  It may become deformed if overheated or bent with significant force.
What should I do if I am having trouble fitting my Jet Shade into my window?
While the windows in each model aircraft are the same size, the interior trim can vary from plane to plane.  Occasionally you may incur some difficulty when installing your Jet Shades.  If this occurs there are a few things to try:
In many cases, the variances in fit can be corrected by loosening the interior trim panels and gently realigning them.  In some cases, the interior trim may have distorted due to heat or installation errors.  If it appears that your interior panels have become deformed due to heat, consult a licensed maintenance technician for possible repair options.
If you believe the Jet Shade just won't fit in your particular aircraft due to the shape or size of the interior trim around the window, do not force it.  You can return the Jet Shade undamaged it in its original packaging for a refund.
If your Jet Shades appear to be a bit snug when installing, consider these installation practices to ease the installation:
The top of the Jet Shade panels are designed to be looser with a locking tab in the center for grip.   Therefore try installing the bottom of the panel then 'push in' the top of the panel.
Optionally, insert the top of the panel by sliding the Jet Shade up in the window until the top is snug, then push in the bottom.
If neither of these methods are satisfactory, then put the bottom in first, slightly bend the Jet Shade to put the top in (so the center is bowed out toward you) then push in the center.
How do Jet Shades attach to the window?
Jet Shades simply press into place without any attaching screws or fasteners.  Our patented design allows the shade to grip through the design of the shade and a foam seal.  The Jet Shade is secured to the interior trim of the window and not the window itself.  For aircraft with a small window recess, Your Jet Shades may come with a small piece of Hook and Loop material  to provide extra security for holding the shade in place.
Does the Jet Shade touch the aircraft window?
No – Our securing mechanism also prevents the Jet  Shade from touching the aircraft window.
How can I tell if Jet Shades will fit my aircraft?
Jet Shades can be made to fit most aircraft cockpit windows   If you don't see your aircraft on our site, please contact us to inquire about your aircraft.  Most likely we can custom make one for your aircraft.
When parked on the ramp, how do Jet Shades compare to foil guards?
While foil guards reflect light rays back through the window, the foil guards themselves can heat up (we measured some at 168 degrees F) and they can be placed right up against the windows or windshields.  Jet Shades also reflect light rays back through the window but heat up much less. When left in on the ramp on a hot, sunny day, Jet Shades will only be about 20 – 30 degrees hotter than the inside of the cockpit.  Unlike foil guards, when properly installed Jet Shades do not touch the window allowing for an air gap between the jet shade and the window. This prevents radiant heat from transferring directly to the window or windshield as foil guards can.
What kind of UVA/UVB protection do Jet Shades offer?
UV-A is 320 nm to 380 nm - transmits through the atmosphere.
UV-B is 290 nm to 320 nm - partially absorbed by the atmosphere (ozone layer).
UV-C is 100 nm to 290 nm - absorbed by the atmosphere (ozone layer).
We test and report according to NFRC standards, these reference ISO9050:2003 as the method for measuring UV transmittance between 300 nm and 380 nm.
The UV transmittance of glazing is the fraction of the incident solar radiation transmitted by the glazing in the 300 nm to 380 nm range (UV-B range from 300 nm to 315 nm and UV-A range from 315 nm to 380 nm.)
Using the NFRC method, our films are 99% or greater, on average, in UV rejection.
I see gaps in my Jet Shades fit. is this correct?
Jet Shades are designed to allow airflow between the Jet Shade and the aircraft window. This is important, especially in pressurized cabins. Therefore you may see small gaps when installing the Jet Shade which is normal. These gaps usually occur in the lower front of the Jet Shade as well as the upper and lower rear of the Jet Shade. (See images below)
The condition of the aircraft trim, as well as replacement of the original aircraft trim, and how each aircraft trim was originally installed can affect the fit of the Jet Shade.  A good test for the Jet Shade is that it will stay in even in moderate turbulence.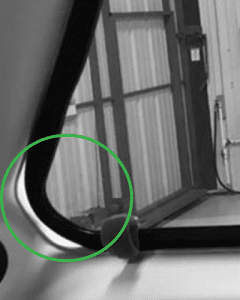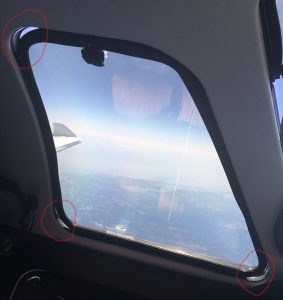 Where can I find warranty information for my Jet Shades?
All Jet Shades come with a two-year prorated warranty. A copy of our warranty is shipped with your Jet Shades, or you can view the warranty here.