Total Cirrus Solution
Our superior package for Cirrus!
The Cirrus has become a favorite among the general aviation community because of the company's incredible focus on creating safer skies for us all. But even with its mix of revolutionary safety features and comfort, heat and direct sun still make flights uncomfortable and less enjoyable for pilots and passengers.
Our Total Cirrus Solution is the answer. This Jet Shades package will:
cool down your Cirrus flights,
significantly increase the comfort of the pilot and passengers,
provide excellent visibility through the windows,
protect all on board from harmful UV radiation,
reduce glare and pilot fatigue,
prevent overheating of your tablet/phone,
eliminate the installation and removal of foil guards*,
make your Cirrus a sharp-looking plane on the ramp!
With this package installed in your Cirrus, you, your family and other passengers will want to fly in your aircraft just because it's so nice inside!
*Always follow the aircraft manufacturer's and Jet Shades' instructions when leaving Jet Shades installed while parked.
---
What's Included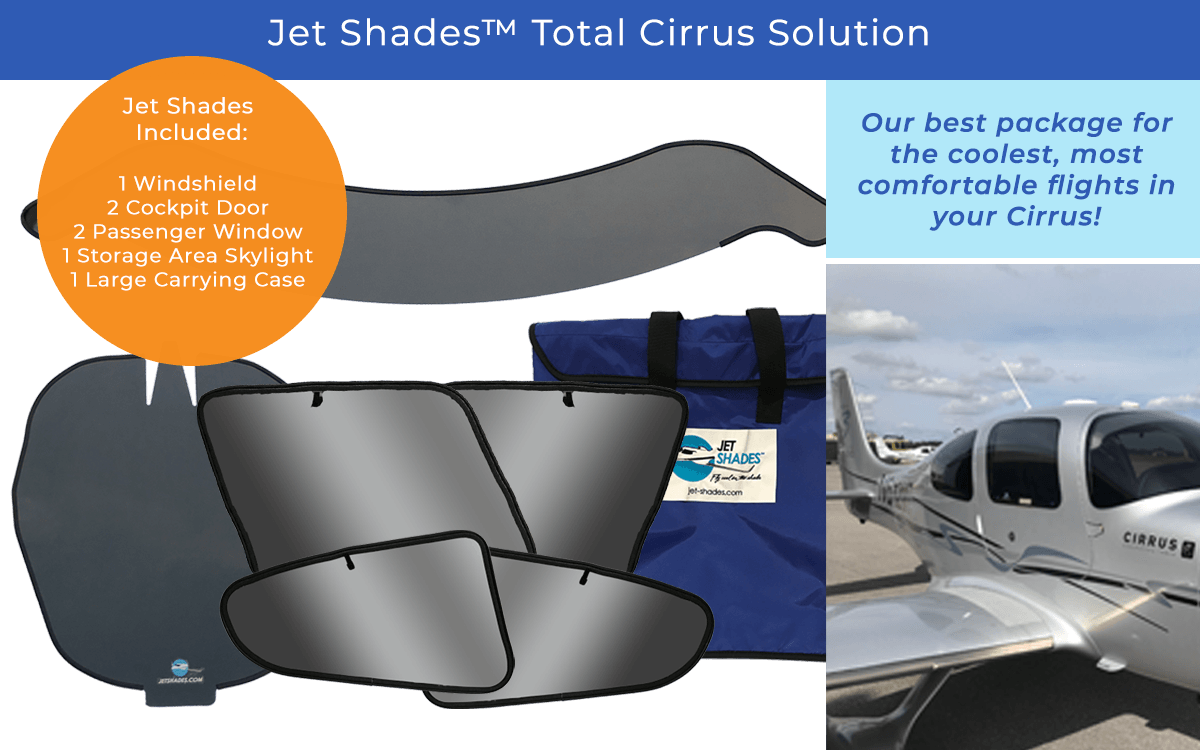 The Total Cirrus Solution includes 100% USA-made:

(2) Standard High-Visibility Cockpit Door Jet Shades
(1) Standard High-Visibility Windshield Jet Shade
(2) Standard High-Visibility Passenger Window Jet Shades
(1) Standard High-Visibility Storage Area Skylight Jet Shade
(1) Large Storage Case
(1) Microfiber Cleaning Cloth
Check product specs for model compatibility
Due to the oversize dimensions of the windshield shade, this product is shipped in two boxes. An oversized package fee is added during checkout.
---
Add the Premium Upgrade
While Jet Shades are designed to provide the best visibility out of the side windows for pilots, the upper half of the windshield and all cabin windows can be upgraded to our Premium Jet Shades specially formulated with a deeper cool blue color that further reduces the amount of heat, light, and brightness that enters the aircraft. The tint also creates a more enjoyable cabin environment by allowing passengers to keep the window shades up and enjoy the view. A Premium upgrade for the upper windshields also gives pilots superior glare reduction that decreases eyestrain, fatigue, and headaches. And, with a mirrored look, the Premium package looks great on the ramp as well! If you want the coolest and most comfortable flights for passengers and pilots, the Premium upgrade is the way to fly.
When you select the Premium Upgrade for your Total Cirrus Solution, the following Jet Shades will be upgraded:
(1) Premium Windshield Jet Shade
(2) Premium Passenger Jet Shades
(1) Premium Storage Area Skylight Jet Shade
---
Easy Install, Instant Protection
The Total Cirrus Solution Jet Shades insert easily into the side cockpit windows, upper windshield, and rear cabin windows. Because of their design, there's no STC required. Once installed, you'll notice a significant reduction in the amount of heat and solar energy entering the plane. The package will also provide the maximum protection for your Cirrus interior from solar damage.
Note – some Cirrus aircraft may require pre-templating prior to sending the finished product. These aircraft include:
Older aircraft with worn or warped interiors around the windows (slight warpage 1/8" or greater will affect Jet Shades fit)
Aircraft that have had their interiors updated or replaced
Aircraft that the trim around the window has moved over time
In these cases, we can work with your local repair shop to have them custom fit Jet Shades to your plane. Contact us for details.
---
Looks Great Inside and Out!
The Total Cirrus Solution Jet Shades not only look like they're part of the original aircraft from the inside, but the ramp presence from the outside will turn heads!
---
Want More?
Check out our Premium package upgrade and product specs.
Start enjoying cool, comfortable flights with one of our Jet Shades Solutions installed in your Cirrus aircraft.
---