Total Pilatus PC12 Solution
Our superior package for the coolest, most comfortable flights in your Pilatus PC12!
The Pilatus PC12 has always been a reliable turboprop flown in many warm climates. It is a workhorse for family flights and charter operators. However, the pilots get the brunt of the sun in the cockpit making it hot and uncomfortable, along with sun glare and UV radiation beating down on them. Even with the luxurious cabin offered in the PC12, passengers can feel the effects of sun glare. The results? Flights in your Pilatus aircraft are less enjoyable, and more fatiguing, and just not as much fun as they could be. Finally, a pilot/engineer has done something about it!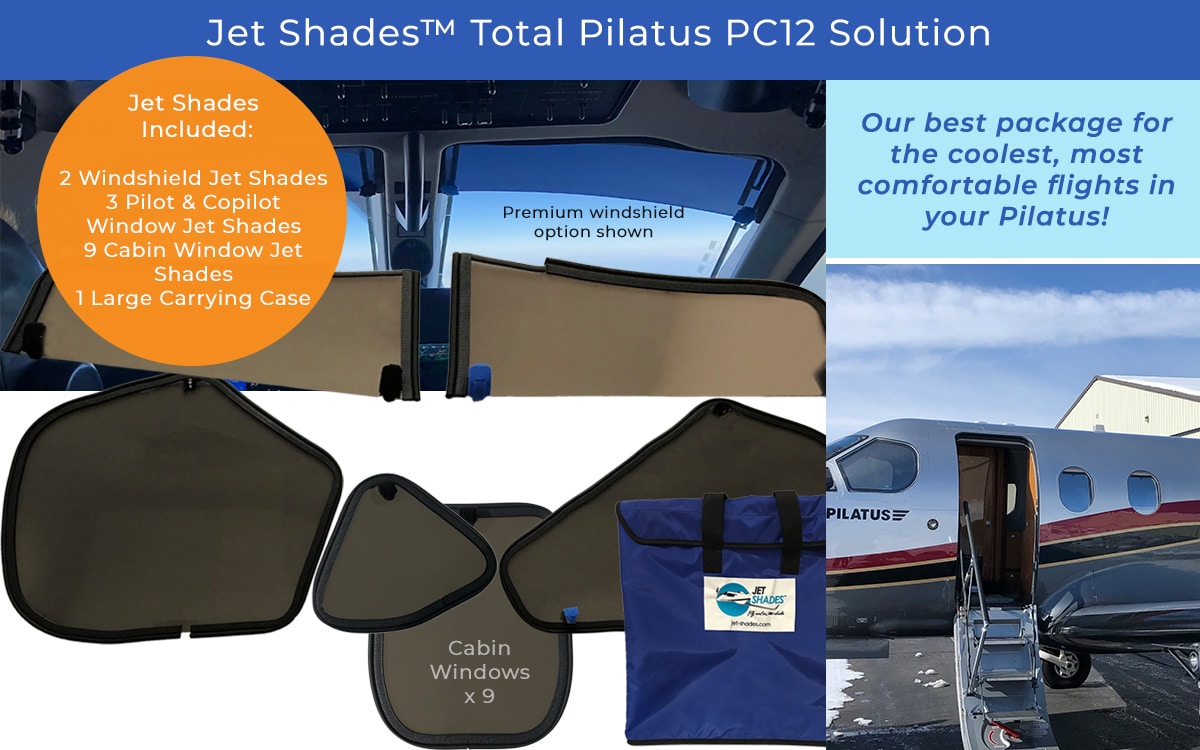 Jet Shades™ are the first complete UV / Heat / Glare-blocking tinted window panels that are designed to be used in the cockpit while flying your Pilatus PC12 aircraft.
The Total Pilatus PC12 Solution includes:
(3) High-Visibility Pilot & Copilot Side Window Jet Shades
(2) High-Visibility Windshield Jet Shades
(9) High-Visibility Cabin Window Jet Shades
(1) Large microfiber storage case
All components are made in the USA
---
Easy Install, Instant Protection
The Total Pilatus Solution Jet Shades insert easily into the side cockpit windows, upper windshield, the rear cabin windows, blocking heat and UV from the pilots and passengers. Once installed, you will notice a significant difference as the amount of heat and solar energy entering the plane is greatly reduced.
Easy self-installed in minutes without the need for an STC
Slide into place & enjoy heat-blocking, glare-blocking protection while flying
Does not interfere with pre-installed visors
Remains secure during turbulence or when cockpit doors are open
Easy and quick removal with a gentle tug on the patented friction-tab
Protects aircraft interior from solar damage
---
Looks Great Inside and Out!
Jet Shades for Pilatus PC12 will cool down your flights, significantly increase the comfort of pilot and passenger, protect all on board from harmful UV radiation, reduce glare and pilot fatigue, prevent overheating on your tablet and phone, make your Pilatus aircraft a real head turner on the ramp!
---
Add the Premium Upgrade
Total Pilatus PC12 Solution can be upgraded to provide the maximum cooling and comfort to your PC12. (See Premium Upgrades.) With this package installed you (and your passengers) will want to go flying more because the plane is so nice inside!
Start enjoying cool, comfortable flights with one of our Jet Shades Solutions installed in your Pilatus aircraft.
---