Universal Jet Shades
Our most cost-effective solution for Baron and Bonanza aircraft!
Hot cockpits, bright sun, solar glare, UV radiation, and just being uncomfortable with the sun beaming through the cockpit windows have always made Baron and Bonanza cockpit flights less enjoyable and more fatiguing. What's more, since Baron and Bonanza aircraft have been around for many years, over time, aircraft window trim has aged, warped, been replaced, or updated and no two aircraft have close enough tolerance for us to make a stock Jet Shade that will exactly fit each aircraft – even within the same model. Really – we've tried!
Now pilots can enjoy all the same high optical quality, heat, UV and glare-blocking benefits that our Jet Shades provide – with no custom-fitting necessary!
What's the difference between our Custom Fit and Universal Jet Shades? Click here to find out.
Universal Jet Shades for Baron/Bonanza cockpits will:
cool down your flights,
significantly increase the comfort of the pilots,
provide excellent visibility through the cockpit windows,
protect pilots from harmful UV radiation,
reduce glare and pilot fatigue,
prevent overheating of your tablet/phone
Universal Jet Shades are installed quickly and easily with suction cups, providing a cost-effective way to cool down your cockpit by preventing heat from entering the windows. The result is cool comfortable flights that will want to make you want to fly more!
---
What's Included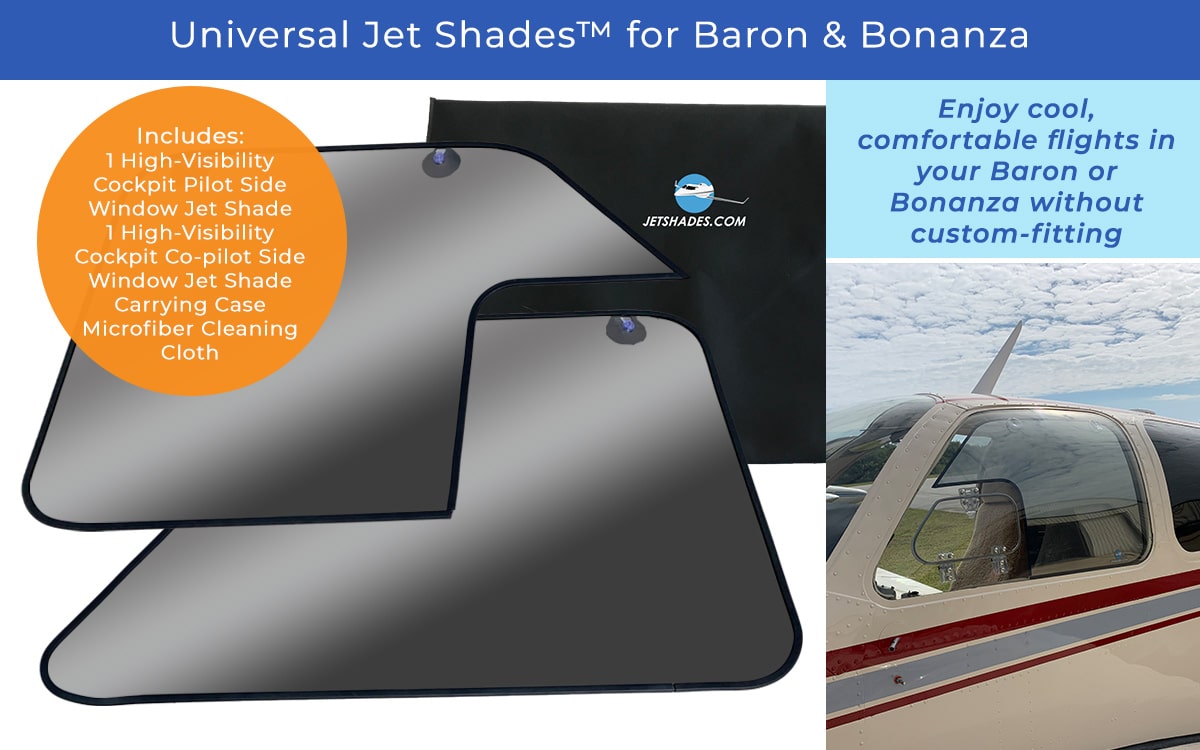 Universal Jet Shades for Baron 55/58 and Bonanza 35/36 include 100% USA-made:
(1) High-Visibility Pilot Side Window Universal Jet Shade with two suction cups for window attachment
(1) High-Visibility Co-pilot Side Window Universal Jet Shade with two suction cups for window attachment
YOUR CHOICE:  Standard set which includes cut-out for vent window on Pilot-side only OR cut-out for vent windows on both Pilot & Co-pilot Jet Shades
(1) Storage Case with compartments for each Jet Shade
(1) Microfiber Cleaning Cloth
---
The Difference Between Universal Jet Shades and a Custom-Fit Solution
Universal Jet Shades are precut to a standard size, which will fit most Beechcraft Baron 55/58 and Bonanza 35/36 cockpit side windows, saving you time and money over a custom-fit solution. Universal Jet Shades block about 85-90% of the window area so are not an exact fit to your cockpit windows. In most cases, there will be about a 1" gap between the Universal Jet Shades and window frame to allow for the variations in aircraft trim.
Universal Jet Shades are for cockpit side windows only. There is no option for the upper windshield at this time.
---
Easy Install, Instant Protection
Universal Jet Shades install in seconds by placing the bottom of the Jet Shades along the bottom of the window trim, slightly bowing the Jet Shade to the bend on the window, and pressing the two suction cups onto the top of the window. Because of their design, there's no STC required. Once installed, you'll notice a significant reduction in the amount of heat and solar energy entering the cockpit windows.
---
Want More?
Check out our product specs.
Start enjoying cool, comfortable flights with one of our Jet Shades Solutions installed in your Baron or Bonanza aircraft.
---